Cookies have been a fundamental tool for marketers for years. So much so, that digital marketers have become reliant on them, not only from a data understanding perspective but in terms of audience creation and reaching the right people at the right time.
Think of cookies as the fundamental piece of the jigsaw which enables businesses to leave a valuable 'crumb' of data on a user's computer or mobile device; this crumb means they can remarket to users, monitor their behaviour through Google Analytics, and better understand results and successes.
Despite the benefits, cookies' availability has caused marketers to over-rely on them for Facebook and Instagram advertising. Several years on, that cookie is starting to crumble.
Users are beginning to opt out of third-party cookies and are more aware and wary of data breaches and intrusive advertising – look at the Cambridge Analytica and Facebook scandal. The rise of search engines such as DuckDuckGo and Apple's recent iOS 14 software update means we are seeing even less data sharing across apps and power is returning to consumers in terms of how their data is being processed.
So digital marketers won't be able to access or use the same level of data and information they did previously. These changes mean that any audience targeting will become smaller and more restricted, making a huge impact on social media marketing and remarketing.
Marketing without cookies
Marketing without cookies is a different beast to marketing with cookies and means working closer with stakeholders, bringing the PPC, email marketing and sales teams together more to better develop the marketing and sales funnel.
Customers might have 8-16 marketing touchpoints before they decide to buy. But marketers might put their efforts into the first and last only, relying on cookies for everything in between, so reviewing and refining their data strategy and reliance on third-party data, is a must.
Refine your data strategy
First-hand data capture is important and needs to be front of mind when engaging across social channels, so take ownership and be in control of owned data – my model explains how:
Following the left funnel previously meant getting a brand in front of a target audience, engaging with them by sharing bits of added value, and remarketing to those who are engaged, to harness conversions.
But what if data is gathered and harvested at the market segment at the point of engagement? This will enable remarketing with first-hand data before generating conversions.
Implement this strategy through personalised landing pages before automating and streamlining this process through a CRM. By creating useful resources, the process of audience segmentation and grouping email addresses can be automated.
Develop effective tools to capture data and collate and organise gathered data to remarket to a GDPR-compliant audience without cookies; thus ticking all the boxes and bringing the right people to a brand.
This audience data can be used to remarket through email communications, or through Facebook to build audiences for paid social media campaigns.
Contextual and behavioural advertising
For years users have been remarketed to if they have shown interest in a brand, or visited a website. However, a lack of data sharing will impact this with ad blockers being frequently used.
According to HubSpot , users say they find Facebook and Instagram ads annoying and are switching them off. So, how to get a positive message out to a target audience?
To overcome any negativity, consider replacing retargeting by implementing contextual and behavioural advertising. Consumers spend more time doing their research, with around 82% of customers consulting their phone before making an in-store purchase. It's now in our DNA to research before purchasing. Our reliance on third-party data has meant we've pushed contextual advertising and banner ads to one side – but now's the time to revisit them.
The benefits of contextual and behavioural advertising
With banner ads, users don't need to have visited the site before for them to appear – they include messages in the context of the page. Get an ad next to the right content, and capture them at the right time in the conversion funnel, without the need for social media retargeting. So, 'front loading' a paid social media campaign to get it to the top of the funnel and reach its target audience.
Implementing contextual advertising through Google's display network, with behavioural advertising to support it, gives it a key role to play in the marketing funnel because the same people who engage with the top of the funnel will see the signals in the other places they go to.
It's crucial to understand your customer profile and journey and build these personas.
Embracing YouTube as a paid social media channel
YouTube is the second most used search engine in the world, behind Google.
YouTube advertising works via keyword targeting rather than remarketing ensuring adverts get in front of people who are actively searching for a product at the right place in the funnel.
Changes to remarketing through Google
The Federated Learning of Cohorts (FLoC) proposes a new way for businesses to reach people with relevant content and ads by clustering large groups of people with similar interests. Unlike cookie-based advertising, Google will start putting users into behaviour- based categories which means you can still reach people with a strong desire for your product or service.
Google says "advertisers can expect to see at least 95% of the conversions per dollar spent when compared to cookie-based advertising". Google can look at users' interests and behaviours without cookies; they don't need to visit a website to be a converting customer.
What does the future look like?
In 2023, Google will significantly tighten up this area, so there is time to prepare for these changes. It's likely platforms will want more control over subscribers to allow advertisers to advertise more effectively. Google is also going to start focusing more heavily on FLoC and contextual / behavioural advertising.
Meanwhile, Facebook has recently launched features including the Facebook Bulletin – a community of writers which requires users to log in to read and engage with content. Whilst doing this, Facebook will learn more about users. This will probably lead to more tailored ads to customers who have engaged with certain content types or industries.
Top tips
Remember to be targeted, focussed and appropriate.
Invest more in ads to generate brand awareness, 'feed the funnel' and remove remarketing altogether.
Consider tactics in synergy, not isolation. Look at the value of assisted conversions and acknowledge how each of these actions feeds into the final conversion through Google Analytics, and this is how it might look in practice: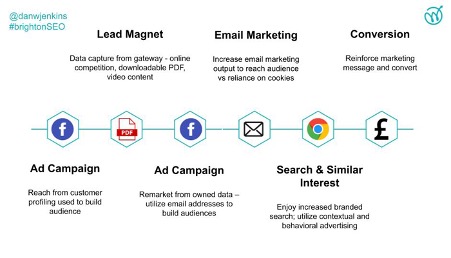 How to prepare for these changes and a cookie-free approach:
Build or improve customer profiles by understanding your target market.
Develop customer journeys – define and analyse routes to conversion.
Gather more first-hand data – stop relying on third-party cookies and improve the GDPR-compliant audience that you have.
Start reporting on assisted conversions – this will help to communicate success internally to the team and externally to clients.
Consider replacing remarketing.
Stay one step ahead of the curve – think about FLoC as the cookie landscape changes over the coming months.
By Daniel Jenkins, Head of Client Services, Wagada Digital
About Wagada
(www. wagada.co.uk) with offices in St Albans and Cheltenham, Wagada offers a wide range of digital marketing services, including SEO, social media, PR, training and consultancy services. Set up by CEO, Cheryl Luzet in 2011, the team has grown and now comprises 14 permanent staff and a team of freelancers, with strong track records in marketing offering the full range of digital marketing services.