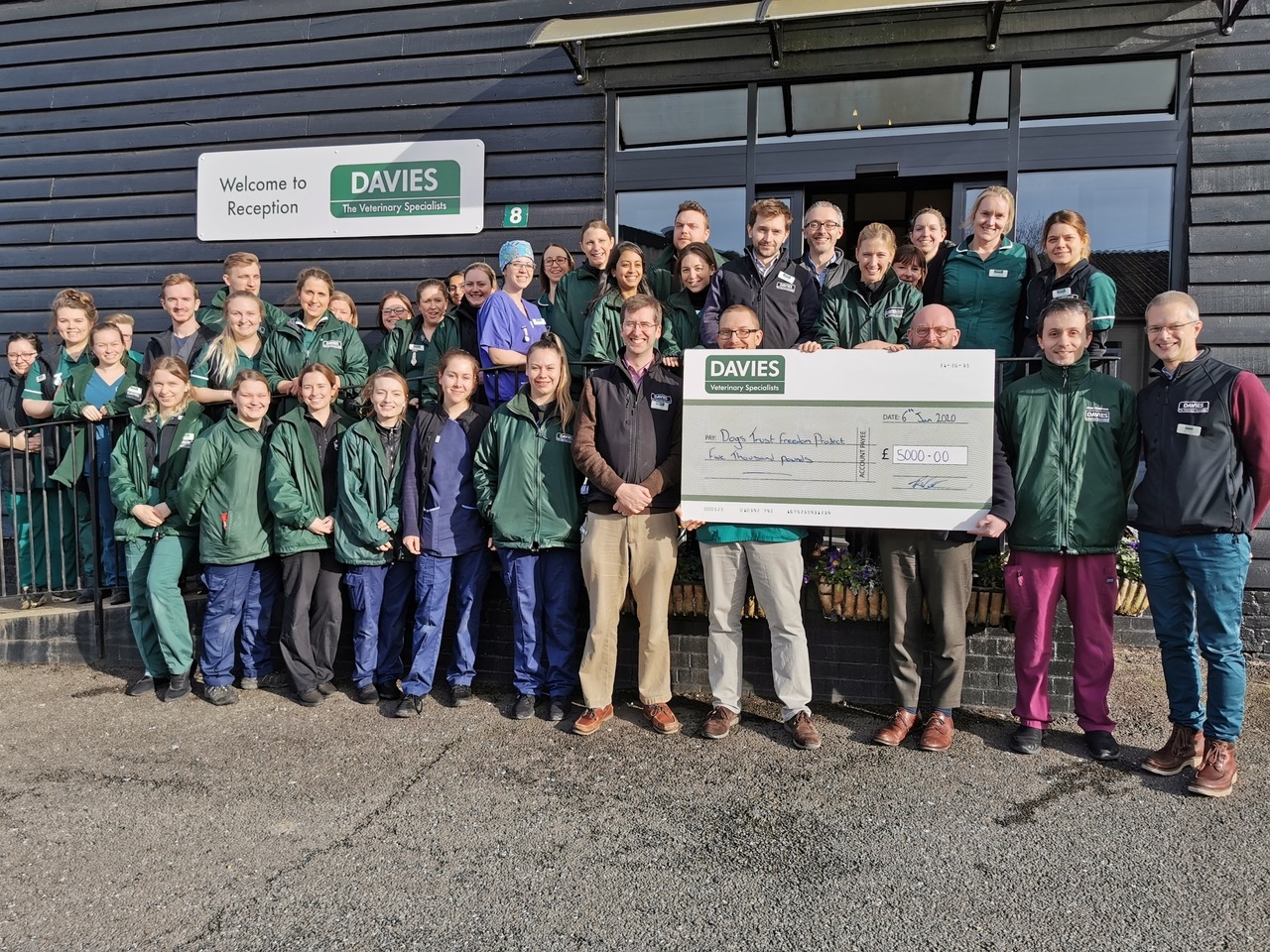 Davies Veterinary Specialists (Davies), the small animal referral practice in Hertfordshire, has donated £5,000 to Dogs Trust Freedom Project. The money was raised through fundraising projects organised by resourceful team members.
Each year Davies chooses a charity of the year and team members collect as much cash as they can for their chosen charity through numerous fundraising events. Dogs Trust Freedom Project was chosen for 2019. This innovative pet fostering scheme provides vital help for people fleeing domestic abuse and seeking refuge in refuges and temporary accommodation that are unable to accept pets. Since the project was introduced 15 years ago it has fostered 1510 dogs, helping 1,475 people to flee domestic abuse in the UK. Many refuges are unable to accept dogs, so this important service gives pet owners the opportunity to escape abuse, safe in the knowledge that their dogs will also be safe and well cared for. Dogs Trust offers a solution by providing free and confidential foster care, enabling the owner to access a refuge without the fear of what may happen to their dog if left behind.
Fundraising events organised by the Davies team included first aid mornings for pet owners to help them learn more about first aid for dogs and cats; an understanding osteoarthritis workshop for pet owners run by the Davies Therapy and Fitness Centre team; The Great Davies Bake Off week during which staff anonymously baked items for the rest of the team to buy and try and then vote on; Davies European food day to celebrate the multi-national diversity of the practice's employees, and a staff raffle, which offered the popular prize of an extra day of annual leave, as well as wine and chocolates.
Amy Hyde, Outreach Projects Manager at Dogs Trust said: "We are very grateful for all the team at Davies for their support for the Freedom Project. Alongside suffering physical abuse, we know that dogs are also often used by perpetrators as a means to coerce and control their partners. This is incredibly frightening for survivors and can range from perpetrators stopping their partner from accessing vet care for their dogs or spending money on dog food, through to repeatedly threatening to harm, kill or 'get rid' of their dogs. As many refuges are unable to accept pets, survivors are understandably concerned about their dog's safety when they need to escape.
"We have recently expanded our service to support even more survivors and their pets from abuse. We urgently need more foster carers across areas of the UK so that we can continue this life-saving work."
The Davies team are now gearing up to start fundraising for their new charity for 2020; Dogs on the Street (DOTS) is a volunteer run, not-for-profit charity dedicated to the welfare of dogs belonging to the UK's homeless community. DOTS operates mobile weekly street "stations' across the UK offering food and dietary advice as well as providing accessories such as coats, bedding, collars and leads. DOTS creates pathways for owner rehabilitation to overcome many mental health issues, which can often only be achieved with their dogs by their side https://www.dogsonthestreets.org/
Michelle Clark Founding Director of DOTS said: "We are truly honoured and extremely excited to have been chosen as Davies charity of the year and for us to be working with a leading UK specialist veterinary hospital. Their fundraising support throughout 2020 will help many of our Dogs On The Streets with the care and support they vitally require via our charity."
Tim Richardson, Managing Director of Davies said: "We are all thrilled to have raised such a good sum for the Dogs Trust Freedom Project, helping to keep pets and their owners together during very difficult times. We are now looking forward to doing our best for Dogs on the Street not only raising money for them but also encouraging our team to volunteer for the charity."