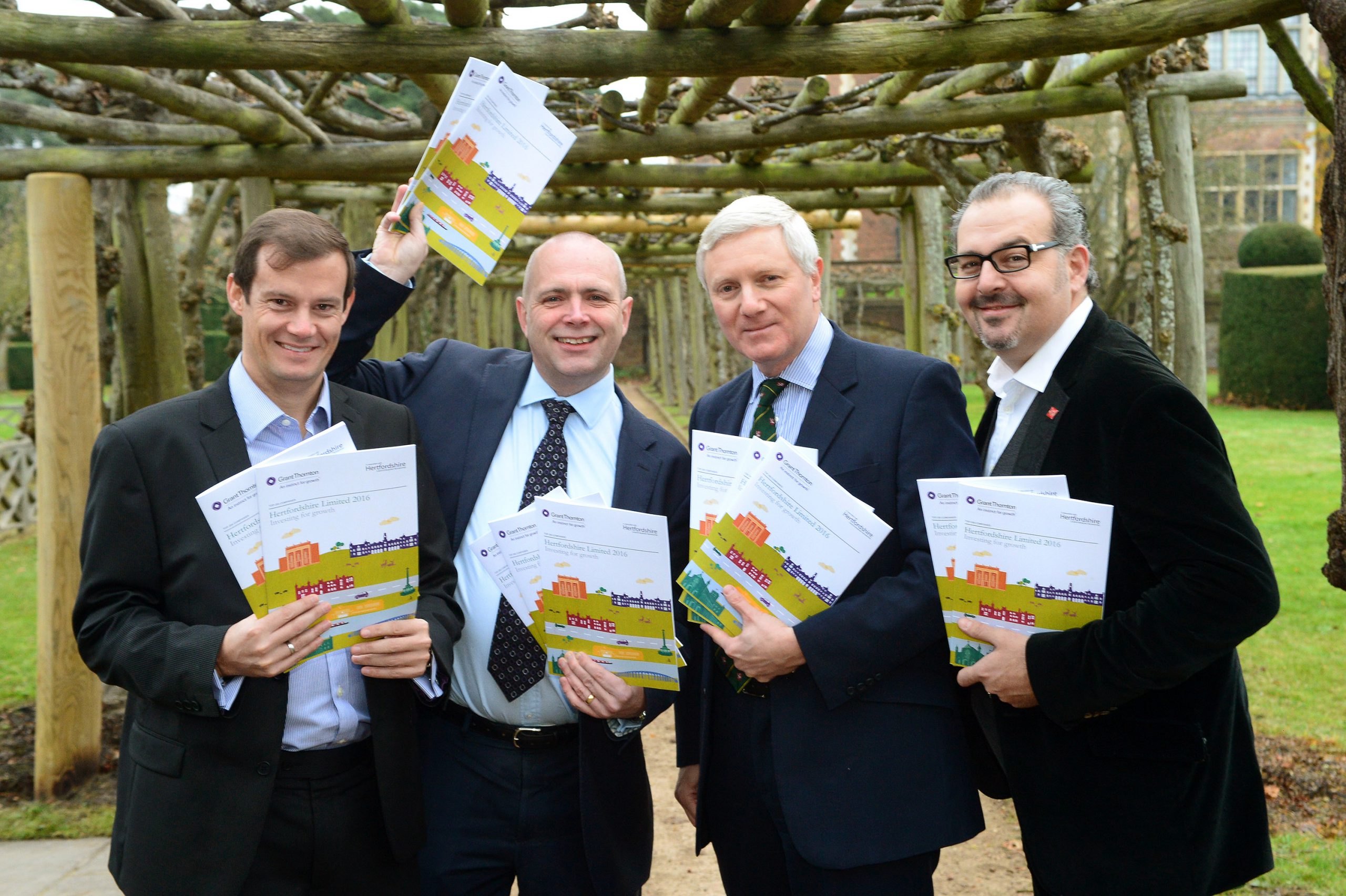 Hertfordshire's businesses have delivered a positive story for the county's business community, says a new report published today, with the 200 largest privately owned companies posting a healthy rise in turnover, profitability and employment.
The Hertfordshire Limited study, conducted by business advisers Grant Thornton in association with Hertfordshire LEP, provides an in depth financial analysis of the performance of the 200 largest companies which are owned and managed in the county.
The findings of this year's report, unveiled to Hertfordshire business leaders at a breakfast event hosted by Grant Thornton and Hertfordshire LEP at The Old Palace, Hatfield House, showed combined turnover for the county's top 200 companies grew by a substantial 12.3% to £15.4bn.
Total profits (EBITDA) also increased significantly by 9.6% to £1.25bn with more than 65% of companies achieving a growth in profit. Hertfordshire Limited's largest businesses, with turnover of more than £50m, experienced higher growth in sales and profits compared to companies at the smaller end of the 200 listed firms.
Employment also grew by 5.8% with almost 103,000 people in Hertfordshire Limited's workforce. Significantly, the study shows that average remuneration has risen by 3.4% to £26,028 (compared to the 1.7% increase last year), suggesting that the tightening labour market Grant Thornton identified in the 2015 report has started to feed through with real term wage inflation.
The Hertfordshire Limited study was based on the latest company accounts available and so relates mainly to a period before the UK's historic vote to leave the EU took place.
Speaking about the findings, Steve White corporate finance director at Grant Thornton, said:
"The top 200 privately owned companies in Hertfordshire have once again delivered an outstanding performance in terms of turnover, profitability and employment growth.
"There are definite signs of increased investment which implies improved confidence in the period under review. There has also been a significant above inflation increase in average remuneration for the first time over recent years, suggesting that the strong demand for talent is starting to drive wage inflation in a number of sectors."
Mark Bretton, Hertfordshire LEP chair, commented: "The report is an excellent bellwether to measure local business health and Grant Thornton is to be congratulated on collating such an important piece of analysis. As the facts attest, the Hertfordshire entrepreneurial spirit is alive and well, evidenced by robust growth in profits, job creation and remuneration. This is most encouraging for future success."
The Hertfordshire Limited report also breaks down the performance of the county's top 200 companies by eight key sectors.
All sectors apart from Health & Education reported an increase in turnover. Automotive, comprising 12 companies, delivered the best increase, up 69.2%, while Food, Beverage & Leisure, the largest sector in the survey with 40 companies, had the largest share of overall turnover at 27% Profit growth was seen across five of the eight sectors with Automotive and Property & Construction achieving particularly strong performances, up 63.4% and 42% respectively.
For the first time, the study also reported on Grant Thornton's Vibrant Economy Index which assesses each of England's 324 local authorities against six socio-economic measures.
Hertfordshire scored above average for Resilience & Sustainability, Dynamism & Opportunity, and Health, Wellbeing & Happiness while it fell below the average for Community & Belonging and Inclusion & Equality.
During the event, guest speaker Syd Nadim, founder of Hertfordshire-based digital marketing firm Clock, shared his business experiences in growing his company from a Prince's Trust start-up.
Have you downloaded our App ?