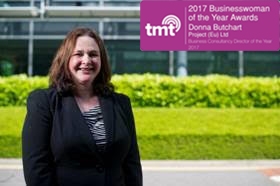 Donna Butchart, MD of Prōject (EU) Ltd, the local niche IT consultancy, has been awarded the Business Consultancy Director of the Year.
The award was made as part of The Businesswoman of the Year Awards 2017 which recognises the exemplary work done by women in business worldwide. Donna impressed the judges with both her technical expertise and her inspirational leadership.
"I am incredibly proud to win this award," Donna Butchart, MD of Prōject (EU) Ltd said. "When I set up Prōject (EU) Ltd over fifteen years ago I never thought that I would be able to achieve so much. We are a niche IT business however we work for some of the UK's largest rail and construction organisations.
"When I set the business up I was determined that my team would be made up of experts with unrivalled knowledge and expertise. I make sure that everyone, at every level, is involved with a client project. I want to stretch the boundary of possibilities for our senior consultants and developers, and give more junior team members the excitement and experience of developing innovative solutions.
"I believe the only way you can truly understanding a clients' needs is through experience and I work hard to give all of my team the opportunity to shape their own career and reward ambition and results."
Heather Ryan, Awards Coordinator, said: "With this award, it is our priority to empower women all over the world and help transform corporate and media perceptions of females in the industry."
Prōject (EU) Ltd is an award winning Oracle solutions provider who is currently involved in one of the largest Primavera licence sale to-date.